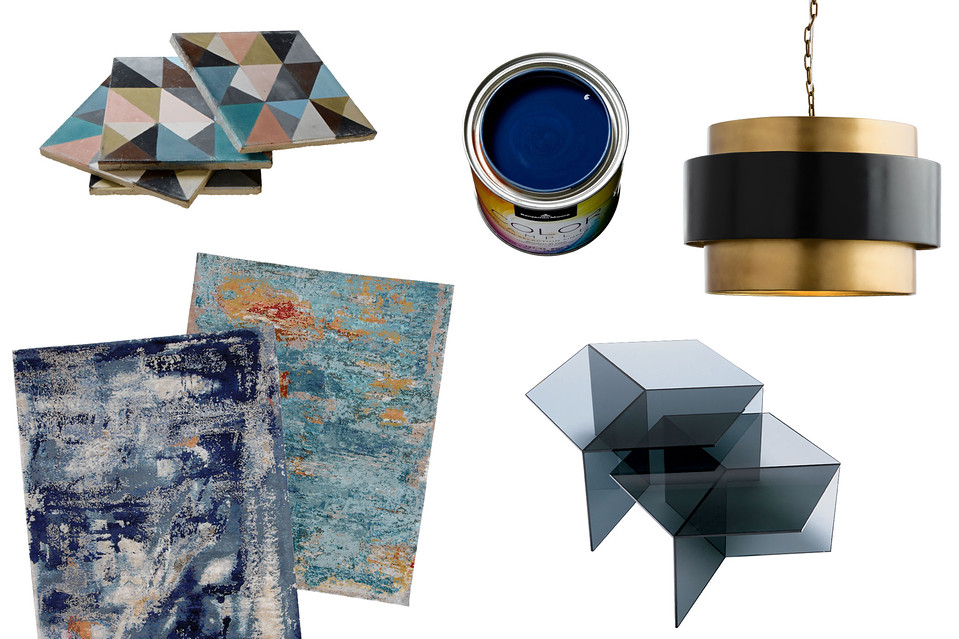 What's In For 2021
Mixed Metals
In London, designer Kelly Hoppen says mixing warm metals, such as copper and rose gold, with cool ones like silver is particularly hot right now. Los Angeles designer Jamie Bush agreed, saying he is no longer interested in matching every metal finish in a single room: "It's too staged." New York designer Thom Filicia suggested a "strategic, layered mix" of silvery, gold and black metals as a "riskier and more stylish" option. A great example: Arteriors's Nolan Pendant, a brass-finished iron light with a dark bronze band.
Moody Indigo
Several designers are developing a case of the navy blues. Paris-based Stephanie Coutas said dark navy, as a counterpoint to white marble and mother of pearl, is a growing trend in luxury projects in the City of Light. Los Angeles designer Sasha Emerson hailed the color's versatility: "It plays so well with other colors, such as pink, cream, gray, coral and sage." Architect Barbara Bestor 's tried-and-true: Benjamin Moore's Old Navy mixed with a little black.
Painterly Rugs
Whether it looks like a Motherwell or a Monet, a rug "that is visually fluid with irregular patterns breaks the grid of rectangular rooms and furniture," said Mr. Bush. (See examples from Marc Phillips's collection here.) "They are true art pieces," said Sydney designer Thomas Hamel, especially those rendered in silk "that shimmer and constantly change color."
Smoky Glass
"Clear is so last year," quipped Mr. May. Instead, Los Angeles designer Kelly Wearstler opts for smoked glass to "strike a tension between raw and refined, masculine and feminine." That smokiness "adds a sense of mystery and intrigue to an otherwise typical material," she said. For Mr. Harris, the effect, as seen in Sebastian Scherer's Isom tables for Neo/Craft, "exudes a sultry 1970s vibe that reminds me of an intimate club that serves really good Manhattans."
Graphic Tiles
Thanks to the allure of indoor/outdoor living, colorful concrete tiles (such as these from Amethyst Artisan shown here) continue to move from commercial to home spaces, said Los Angeles designer David John Dick : "It's a perfect combination of graphic design and interior design." Sam Allen, a Connecticut designer, views them as a sneaky image-booster. "These unusual ethnic tiles give the appearance that you are well-traveled," he said.
What's Out!
Chevron Prints
If used simply and elegantly, the ever-popular military motif "can be a strong look on its own," said Simon Rawlings, creative director of David Collins Studio in London. But as a repeated zigzag on wallpaper or pillows, it's passe. "You know it's time to kill the trend when you can buy a Crock-Pot with a chevron pattern on it."
Text as Décor
"French writing on linen is o-u-t," said San Francisco designer Lisa Lorino. Ditto "Keep Calm" posters, suggested Lana Sexton of Manhattan's Nest Interiors. And metal letters lit with light bulbs darken many a designer's mood. When Boston-based James Swan, author of "101 Things I Hate About Your House," spotted one such installation, spelling "EAT," in a home, "I took a houseful of strangers out to dinner—on me—rather than be trapped staring at that sign," he recalled.
Mirrored Furniture
This attempt to evoke 1930s Hollywood glamour is starting to show its age. "A mirrored accent piece may be gorgeous," Los Angeles designer Christian May acknowledged, "but if I see the scuffs on my shoes reflected in one more cheap catalog credenza, I'm going to scream." Only the reincarnation of Carole Lombard, said Atlanta designer Stan Topol, could make him reconsider the look.
The Ombré Look
When they first arrived on the scene, dip-dyed furnishings were a clever way to update familiar shapes, said upstate New York designer Jeffrey Harris, "but now Pinterest is full of the sad, clichéd DIY results." Ombré fabric, Mr. May said, "will always be a décor classic, but chair legs dipped in paint are another thing entirely." Richard Misso, design director of the Stylesmiths in Melbourne, Australia, offered this succinct advice: "Keep ombré in the hair salon."
Beni Ourain Rugs
Along with overdyed patchwork Persian rugs, these shaggy Moroccan black-and-whites are overexposed. "Vintage Beni Ourain rugs that cost $10,000 are now being knocked off on eBay," noted Ms. Sexton. Los Angeles designer Mark Cutler offered a more blunt assessment: "They got us through the recession with luxurious pile, simple color and a tempting price point, but it's time for them to stay in the soul."